AFTER DEATH... Burial With Honor

Burial With Honor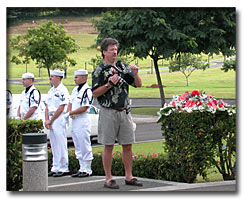 Our good friend, Richard Wood, who filmed the interview of both Dad and Mom, agreed to film the church service and Honor Guard burial ceremony at the cemetery. It turned out great except for the sounds of weed wackers in the background from the cemetery maintenance workers. When I edited the video, I removed all sound and replaced it with military chorus singing "Eternal Father, Strong To Save" and a military band playing "Amazing Grace." I was able to share the ceremony with friends and family by burning it on DVD.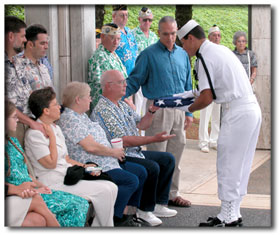 My brother collected the shells from the twenty-one-gun salute. He later placed them in a framed shadow box glass case along with the flag and Dad's medals.

A few weeks later, we flew to San Diego to help conduct the California version of the memorial service. It was pretty much a mirror of the Hawaii one, plus we were able to show the video of the Hawaii military burial ceremony. It was followed by a buffet lunch prepared by my sister's church friends. The San Diego Union/Tribune even did a feature article on Dad in their obituary section.